What is Hegar Uterine Dilator? It is a round curved instrument either single-ended or double-ended especially designed for uterine (uterus=female reproductive organ) assessment. It is one of the most popular gadgets used in Gynae and Obs.
What is its function? The dilator is used for assessing the length and planes of the uterus, its direction and often it is used for inducing dilatation of the uterine cavity.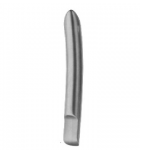 Surgical procedures: It is widely used for D&C i.e. dilatation and curettage after missed abortion or incomplete abortion and sometimes it is used to induce abortion. As mention above, this instrument is helpful to examine the planes of the uterus; it can be used during laparoscopic and open surgeries to determine the safest plane to enter the uterine cavity. Furthermore it can be used to assess the depth of the cavity prior to the introduction of intrauterine device so as to avoid perforation. The determination of the length of uterine cavity comes in handy prior to the use of embryo transfer catheter as well.
You can grab the set of 8 double-ended dilators (3/4 mm to 17/18 mm) or the set of 14 single-ended ranging from 4 mm to 17 mm online. Click the link for further details.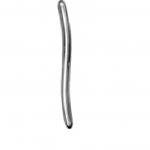 Available Sizes and Age Group: It is available in number of sizes and is used on female adults. In case of single-ended dilator the tip diameter varies from 16 mm to 26 mm and is 7 inches (178 mm) long. Double-ended dilators having length of 8 inches (200 mm) posses tip diameter which ranges from 1/2 mm to 17/18 mm. While 10 inches(254 mm) long double-ended dilator have tip diameter of 3/4 mm, 7/8 mm,9/10 mm,11/12 mm. 13/14 mm tip diameter is available with  11 inches(279 mm) length, 11/12 mm tip diameter with  12 inches(305 mm), and  15/16 mm tip diameter with 13 inches (330 mm).