What is Weitlaner Retractor? Weitlaner Retractor is named after the Austrian surgeon Franz Weitlaner (1872-1944). He invented this self-retaining retractor as he usually had to get on with surgical procedures without assistance.
The instrument is shaped like scissors with downward pointing prongs at the tip, with either sharp or blunt blades. This Retractor has ratchet (unidirectional) mechanism through which it is locked in position.
                    Caution: The Weitlaner retractor is used without the aid of sponges. Its sharpened tips may injure the user or the tissue and underlying structures if it is not handled professionally.
What is its function? The basic function of all the retractors is to hold the tissues, viscera or skin edges of the incised wound at a position so as to give the surgeon a clear shot to get on with his work. As Weitlaner is a self retaining retractor it is set against the edges of the wound or the tissue needed to be held apart and then ratcheted handles are locked manually while the blades remain apart holding the edges with no assistance. The retractor is ideal to hold the edges of shallow incision.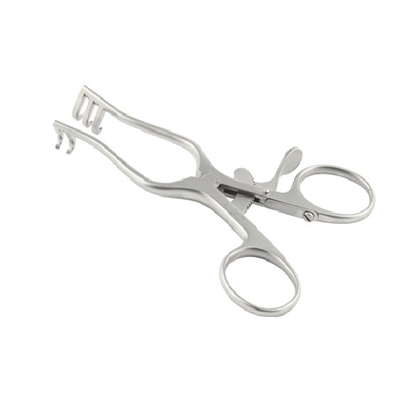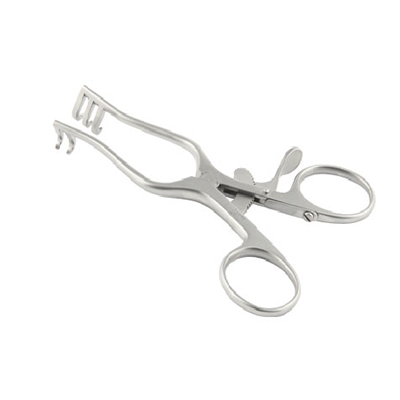 Surgical Procedures: It is widely used to hold the incision made in the groin for the sake of herniotomy (otomy=to cut, a surgical procedure to repair hernia), femoropopliteal bypass (a graft implanted between femoral and popliteal artery) or saphenous vein graft. It is used to hold the incisions in case of orthopedic surgeries as most of the incisions are shallow. Moreover it is used in neurosurgical procedures to hold the skin of scalp in procedures like craniotomy. It is even used in some cardiac surgeries like implantation of pericardial pacemaker. In facial surgeries it may be helpful.In children this retractor is used to hold the incision in midline on the back while repairing tethered cord syndrome (a fixation of the spinal cord due to the scarring following the repair of myelomeningocele which is a birth defect where bones and spinal canal has not been completely formed). Apart from these the retractor is useful in many other surgeries where shallow incision is involved.
Available Sizes and Age Groups: The retractor is applicable on children and adults both. In pediatric size it is 4 ½ inches long (115mm) with 3*3 blunt prongs. In adults the length may vary from 5 ½ inches(140mm) to  9 inches (229mm) with 3*4 blunt prongs.  The length available in case of sharp (3*4) prongs ranges from 5 ½ inches (140mm) to 7 ½ inches (191mm). Their opening sizes vary according to their lengths.
Both of the varieties i.e. sharp and blunt are available on the net for online shopping for those who are interested.