What is Debakey Abdominal Aorta Clamp? This clamp has been named after the renowned American cardiologist Micheal E.Debakey.It is a flexible instrument having spoon shaped flat jaws which makes sure non-traumatic clamping during surgical procedures.
What is its function? As the name suggest it is used in clamping (occluding) larger vessels especially abdominal aorta during surgical procedure so as to avoid excessive bleeding. Its flat jaws ensure adequate pressure while the vessels are in no danger of being crushed or traumatized.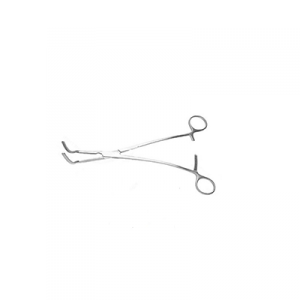 Surgical procedures: In cardiothoracic surgeries it can be used to clamp aorta or corresponding larger vessels. Most commonly it is used to clamp abdominal aorta in cases like aneurysm (abnormal dilatation) or dissection (tear) of the vessel. The clamp can also be used in peripheral vascular surgery for instance it can be used to occlude femoral and popliteal artery present in lower limb and can be efficiently use to clamp A.V fistulas( fistula is a double ended channel joining an artery to the vein and is always abnormal).
Available Sizes and Age Groups:It is only used in adults in both males and females. It is available in two sizes. One is 9 inches (229mm) long with jaw length of 50mm having 1*2 serrated jaw teeth. While the other is 10 ½ inches (267mm) long with 55mm jaw length and wider teeth rows of 2*3.