Audit checklist is a helpful document for auditors to keep the audit on track and ensure that all important aspects of audit are well checked. Most of the auditors use an audit checklist, the ISO 45001 audit checklist is a guide for auditors to assess the organization on the basis of ISO 45001 and will ensure that no Clause is missed during audit.
There can be two types of audit checklists i.e. internal audit checklist and external audit checklist.
Internal audit checklist is customized checklist for organizations' occupational health and safety management system based on their organizational procedures, voluntary & compliance obligations.
External audit check list is customized based on certification requirements given by the accreditation body. Usually external audit check list is drafted on the basis of type of audit scope such as certification audit, migration audit, surveillance audit.

Certification audit is carried out in a way to verify all standard requirements. It means certification audit check list is based on questionnaire covering all requirements of the standard.
Migration audit checklist is based on questionnaire covering the migration requirements only. It means all the new or changed standard requirements from OHSAS 18001 to ISO 45001 will be verified.
Surveillance audit is usually a follow-up audit of the certification audit. Therefore auditor observations such as potential non-conformity on the certification audit will be primarily re-verified in surveillance audit. Or effectiveness on actions on previous non-conformity will be checked. Therefore this needs to be a customized checklist on the basis of organizations' performance on it's health and safety management system.
---
Learn about the list of mandatory documents required by ISO 45001.
---
In short the audit check list is a document that ensures that the scope of the audit is met and all requirements are assessed. It helps the auditor to manage time and coordination to cover various aspects of audit. Therefore auditor should take help from a checklist.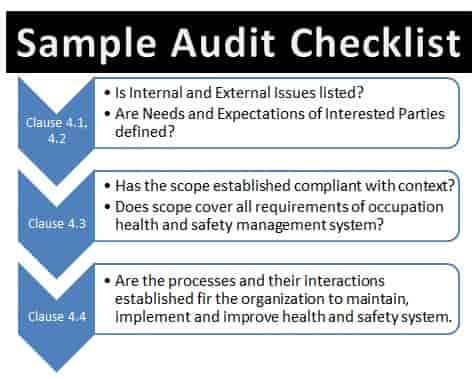 ---
Are you interested to learn about ISO 45001 awareness and lead auditor training course?
---
Likewise it is said that experienced auditors do not necessarily require a checklist instead they cover all the requirements by verifying the trail of some audit samples in different requirements of the audit.