What are Dental Excavators? These are defined as an instrument utilized in the removal of damaged tissue from a wound of pulp chambers (cavities) and channels of the teeth. The instrument ...
Continue Reading →
What is Bite Block? There are two types of bite blocks. One bite block is defined in dentistry for copying of the jaw structure. The other one is used for protection as post-surgical ...
Continue Reading →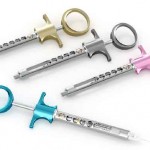 Aspirating Syringe is a hypodermic syringe utilized to insert local anesthetics, particularly in dentistry. Before direction of a local anesthetic at the opted position, the practitioner ...
Continue Reading →